Commission a Portrait in Brighton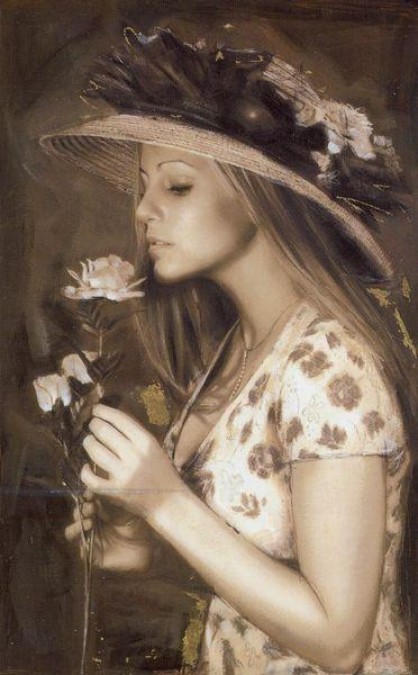 Commission a portrait in Brighton to commemorate important life events and in time you will have a family history viewable in fine art. Most people think of portrait paintings as very large and those portraits are grand. However, they don't have to be large to be stunning. A beautiful miniature is truly a treasure. Of course, the quality of the portrait is only as good as the artist which is why you need to familiarise yourself with the work of Rob Hefferan. If you see how he creates a portrait you will be amazed at the brilliance with which he adds depth and light. People don't just look at the portraits he creates, they react; it's impossible not to and that is as it should be. Art, after all, is to be experienced, not just passively viewed. The intricate backdrops are so realistic but they never steal the show. Your eye goes directly to the subject.
Figurative pieces are often created by portrait artists; that's what they create and that's where their gift lies. If you were to, in Brighton, commission a portrait with Rob Hefferan you will know right away that this portrait artist is the exception. He can paint anything. His artistic gifts, his own passion for diversity, and his extraordinary imagination with colour make him a consummate artist. You will be thrilled with the way he captures your emotions in your wedding portrait, the joy in a portrait of your children, and the mature comfort and confidence in a 25th wedding anniversary portrait.  These are action portraits because you can clearly see that something is going on in each painting. You will see it and you will feel it when the portrait is in the same room as you.
For your gift-giving, this year, commission a portrait in Brighton of the bride and groom. Choose something special for Mom and Dad like a miniature portrait of that first grandchild. What a beautiful display as each new portrait is added. There is nothing quite like a generation's portrait for grandparents to proudly display. Whatever the subject or reason for giving, a portrait will always be a treasured gift. You can contact Rob Hefferan and schedule a consultation and see his private collection of work. If you are planning to present the portrait as a gift, then a lovely card declaring your wish for the recipient to accept your gift of a portrait to remember their special day can be arranged. Every time your loved one views the portrait through the years, they will remember you.