Choose Automotive Art for a Stunning and Perfect Gift for a Loved One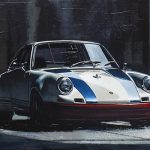 Automotive art, seen in stunning hand-painted automotive portraits is an excellent way of capturing the beauty of a classic car enthusiast's pride and joy. Perhaps you are looking for the perfect gift for a loved one. Some people are passionate about their cars, from the Corvette they scrimped and saved for, to the Studebaker they inherited from their Grandfather. Why not consider an original automotive portrait by top artist Rob Hefferan? A car is unique and individual as its owner, and what better way to preserve the beauty of the owner's pride and joy than by commissioning an artist to create a stunning painting?
When you commission artist Rob Hefferan for a stunning automotive art painting, you will receive a stunning painting that will immortalise its beauty, forever. To get started, you can provide reference photographs of the car, or you can arrange with the artist to have photographs taken on your behalf. You can also choose whether the car should be painted on its own, or you could choose to have the painting completed with the owner of the car. Either way, it is an excellent choice of gift for a loved one who is passionate about their car. Every single detail, every curve and corner will be replicated in the painting. The painting process takes from between 1 – 6 weeks to finish the painting. Once the painting is complete, a photograph of the finished painting will be emailed to you for your approval. You will be thrilled by the magnificent painting, complete with the smallest of details that make the car unique.
For stunning automotive art, you cannot go wrong by choosing Rob Hefferan. When the painting is complete, it will be professionally framed and then sent to you by secure courier. Once it is in transit, you will receive a unique tracking reference number. For more details about exquisite automotive art, contact the artist directly. You will be amazed by this talented artist. He creates beauty using predominantly oils and acrylics, resulting in unique paintings that brim with colour, texture, vitality and light. Commission the perfect gift for your loved one with automotive art.