Tanja Stadnic Artist | Automotive Art | Rob Hefferan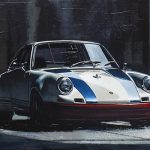 Tanja Stadnic, Artist can make someone you might know very happy. She's an acrylic on canvas artist that creates portraits of beloved Porsches. If you know someone who loves their Porsche then commission the talents of Tanja and give him or her a bespoke painting of their beloved. Look through Tanja's collection and you'll see how she captures more than metal in her work. You can almost hear the engine rev and see the tyres turn. You look at one of her Porsches and you see the power, sense the instant response and feel it take flight. If you or someone you know dreams of owning a Porsche, the most realistic substitute is one of Tanja's paintings. Visualisation alone will give you the adrenaline rush of being in the driver's seat and the sensation of rounding the first curve.
The beautiful lines of Porsches of all ages and models is recreated on an abstract backdrop that will speak to most all Porsche aficionados. Clearly artist Tanja Stadnic is an unusual and gifted young artist who follows her own passion through her art. Her own philosophy explains her motivation. "I want to create paintings that are not something to everyone, but everything to some". Clearly, a unique artist that connects with her clientele. So much so, in fact, that she has each painting hand-delivered. Ms Stadnic should not be confused with artists that are introverted. She paints fun, power, adrenaline, speed, beauty and excitement and wraps it all up in one unique car. After that, she would love discussing each of her works with interested clients.
From her childhood in Moldovan, Tanja Stadnic, artist, has pursued her passion for art in her studies and life choices. Her artistic style is easily recognisable. Some describe it as "adrenaline-fueled". However, she does things with colour that is unique only to her. Working in acrylics, she does not spare the paint which gives her works a texture and dimension not seen in the works of others. Make an appointment to view the art collection of Tanja Stadnic. We think you'll be impressed. When you purchase from her collection the work will be hand-delivered to you along with the certificate of authenticity. Of course, if you would like to commission a work of art, bring your Porsche.