Car Portraits in Birmingham – the Perfect Gift for Any Auto Enthusiast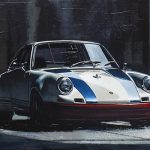 The perfect gift for auto enthusiasts would be car portraits in Birmingham! Rob Hefferan creates unique, stunning and timeless pieces of automobile art. These one-of-a-kind pieces make amazing gifts, and you could also treat yourself to them if you're passionate about cars. Rob's art is both recognisable and familiar, yet distinctive and exclusive. He works with a range of mediums such as chalk pastels, oils and acrylics. Critics have placed him at the forefront of contemporary figurative art. His works are appreciated across generations. The gift you give today will certainly be cherished and valued in the decades to come.
For art lovers in Birmingham, car portraits created by this highly talented and renowned artist will certainly be treasured. Automobile enthusiasts love anything to do with cars, whether they're sleek, modern beasts or graceful, vintage beauties. An interesting fact about Rob is that he is a dedicated car enthusiast himself. This allows him to bring his innate zest, fervour and intensity to every auto portrait he creates. His works are the best way to touch the soul of a vehicle worshiper. This is because he brings his own genuine ardour for cars and the car culture to his work. You can commission a portrait of your favourite make or model, or you can request a reproduction of a vehicle you've always fantasised about owning. Car portraits are loaded with history and they document the way vehicle design has changed over the decades.
Car portraits in Birmingham can add a touch of class to your walls. His artworks are characterised by attention to detail. They're illustrations that come alive no matter how many times you view them. He can draw the vehicle from any angle that you prefer. You can choose the subject, layout, colours and background yourself. If you'd like special effects such as smoke, tyre skidding, or water splashing, just let Rob know. Whether you want a custom portrait of a hot rod, vintage classic, your own trusty family vehicle, or even a sports bike, get in touch with Rob Hefferan.  This is the ultimate personalised gift! It ensures that not just the painting but also the giver remains forever cherished in memory.