Car Portraits in Manchester, the Perfect Gift for a Loved One in Love with Automotive Art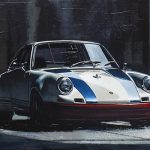 Car portraits in Manchester is one of the best gifts you can get for a car enthusiast in the North West. Authentic car portraits are a rare find. Car portraits can immortalise a moment in time when your car is at its best. A highly skilled artist can create a unique representation of your car in your favourite setting. You can have a portrait of the car on its own or with a person of your choice. Many antique car collectors and hobbyists like to feature in portraits inside or beside a unique car. Quality portraits tell a story about the car. Unlike in a photo, car portraits can be selective about what they feature. The artist can select specific aspects of the car to highlight. The artist's unique point of view is what sets portraits apart from photographs.
Rob Hefferan is well known for creating some of the most captivating portraits in the North West. In Manchester, his car portraits are second to none. Rob knows how to draw his audience in with his art and make them part of the painting. His portraits have so much detail that they seem realistic. One can be captivated by his intricate strokes and use of colour for hours. Rob spends time with clients to understand what features they love most about their car. He then visualises the car from the client's point of view before beginning his work. In the end, he develops a portrait that keeps his clients captivated for years.
Rob Hefferan's work is not limited to car portraits in Manchester. He also does personal portraits, animal paintings, landscapes, cityscapes, equestrian paintings and themed art. Rob can work from a photo you provide or have new photos taken if necessary. Rob's experience is evident in his work. Since his first exhibition in 2003, clients have been lining up to commission and buy his art. Contact Rob Hefferan today if you would like to know more about his services. Rob is warm and welcoming and always happy to meet new and existing clients. Rob Hefferan's paintings are works of art that only gain value with time.