Stunning Automotive Art in Cardiff, the Best Gift for a Special Friend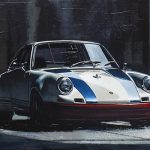 Choose automotive art in Cardiff as a fabulous gift for a friend who loves cars. Automotive art is a clever way in which to immortalise your dear friend's favourite car. Rob Hefferan can complete it using a variety of different mediums like acrylics, oils and water colours.  The great thing is, regardless of the medium in which it was captured, the end result is stunning. It can be admired and appreciate for many years. If you are planning a surprise gift for an automobile aficionado, automotive art is the perfect gift. Your friend can hang it up on a all of his choosing, and can admire it whenever he pleases.
Choose, as your special gift in Cardiff, automotive art by an extraordinary artist. There are many subjects that can be chosen for this special gift. His first car, a favourite type of car or something that he dreams of driving. Why not speak to Rob Hefferan about creating a beautiful artwork that will be forever cherished and admired. The first step this artist takes hen doing a car portrait is working with a reference photo that you supply. You can also have the option of having your special friend painted with the car, or the car painted on its own. The process takes roughly 6 weeks to complete. After which, Rob will send a photo of it for your approval. It is then framed and sent to you by professional courier.
Automotive art in Cardiff is a very special gift for a very special friend. Contact Rob Hefferan today if you would like to commission a painting of a special car for a dear friend. Rob Hefferan will replicate every detail, as ell as every line, and will make it instantly recognisable as your friend's favourite car. The artist's artwork is sought after by collectors worldwide. It will be immortalised forever in a truly beautiful original painting . Choose a highly talented artist for the perfect gift for your special friend.