Automotive Art in Swansea – the Perfect Gift for a Loved One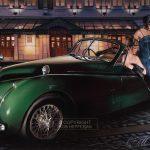 What better gift than automotive art in Swansea for an auto enthusiast? Rob Hefferan creates amazingly evocative artworks that feature automobiles ranging from vintage beauties to contemporary motors. The artist's own passion for cars that he's always had since childhood comes through in his one of a kind creation. Whether you're an art lover or not, you'll recognise the beauty and skill in the line and colour of each painting. If you're a motor-head yourself, then you'll surely appreciate an artwork that celebrates your own pride and joy. These unique works of art are as individual as their owners. Paintings immortalize their subjects and ensure that their beauty and character transcends time as they get passed down generations.
For clients in Swansea, automotive art can be commissioned in a convenient, step by step process. The artist can work directly from a photograph that you supply, or he can arrange to take reference photos of his own. If you'd like the painting to be a solo portrait of your precious set of wheels, or you'd like to feature in the portrait too, Rob is glad to oblige either way. Prices depend on size, complexity, background, details and number of cars. The actual creation and painting process can take up to six weeks, based on the complexity. Simpler subjects can be completed in lesser time. Once the artist completes the work, he can send you a photo of the painting for your approval. Subsequently, he can arrange for the painting to be professionally framed, keeping your taste and preferences in mind. The portrait will be couriered to you via a safe courier service.
You will appreciate the careful colour choices and styles that he adopts for each work of automotive art in Preston and elsewhere. Rob Hefferan's auto paintings can be viewed online on his website. They capture the grace, majesty, fun, design, colour and movement of these gorgeous vehicles. For more detals about commissioning automotive art, speak to the artist directly. They make the perfect gift to celebrate a milestone birthday, or a treat for yourself to immortalise a much loved vehicle that holds a trunk full of memories.