Car Portraits in Nottingham – Rare Gifts to Cherish for Years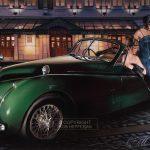 There aren't many artists who can provide professional car portraits in Nottingham. Creating portraits of any form is a practice that combines technical skills and raw talent. Many artists prefer abstract art forms to those limited by fixed lines and dimensions. A car portrait must depict the mechanical structure of the machine while bringing forth its hidden personality. For a person to love his car, it means that it has unique characteristics and sentimental memories. To achieve a perfect representation, the artist must find the connection between the car and its owner. An artist can only learn such a skill from experience, exposure or a deep metaphysical awareness. The ability to make a car portrait that connects with the heart of its owner is what sets world-class artists apart from their competitors.
Rob Hefferan is one of the few artists who can exhibit the hidden nature of inanimate objects in his art. In Nottingham, car portraits are rare gifts that you can cherish for years. The car portrait captures a moment in time that is immune from deterioration or age. Rob provides you with the option of having a person featured in the portrait with the car. Rob is a down-to-earth artist who loves to interact with his clients. He spends time understanding your personality and taste before beginning work on your portrait. A car portrait is an excellent gift choice for a car collector or enthusiast.
Rob Hefferan's work is not limited to car portraits in Nottingham. Rob's collection features portraits of people, animals and events such as weddings. If you would like to order a car portrait, contact Rob Hefferan right away. Rob's art is in high demand, and it takes time and patience to develop each portrait. The early orders reduce the pressure for the completion and delivery of the work. So, if you need the car portrait for a birthday gift or special occasion, you should consider making your order months in advance.