Car Portraits in Cheshire – Immortalise Your Favourite Car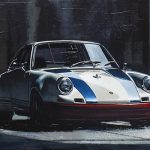 Car portraits in Cheshire are a wonderful way to immortalise your favourite car. It could be that you have fond memories of the very first car you owned. Or perhaps you are enamoured with a specific classic car. While we often associate portraits as artwork completed with a human subject, car portraits are as valuable and appreciated. For your own car portrait, choose an artist who has skill and experience in this line of art. Rob Hefferan is a gifted artist and specialises in realistic and beautiful portraits. You'll receive an incredible artwork when you choose this artist. Whether you are commissioning the portrait for yourself, or for a loved one, you will be thrilled with your work of art.
Whether it is the very first car you owned, or a classic that you are in love with, Rob Hefferan will do it justice. In Cheshire, car portraits include the emotion and feelings surrounding the vehicle. This portrait talks to those who look at it. When you would like a car portrait of your favourite car, give the artist a ring to get started. First a photograph of the car is needed. You can provide the photo yourself, or the artist can photograph it. This is to ensure that the artist recreates every single aspect of the car in the portrait. If you want yourself or the person to whom you are gifting the portrait, in the portrait, the artist can do so. The painting will take up to 6 weeks to complete, depending on the complexity. When the painting is complete, you will receive a photo of this for your approval. Thereafter, the portrait is professionally framed with a carefully chosen frame to complement the artwork.
Car portraits in Cheshire, once completed and framed, are couriered to the client. If you are interested in a car portrait for yourself, or for a loved one, contact Rob Hefferan. A car, whether old or new, is as unique and individual its owner. Rob Hefferan can paint a portrait of your car, replicating every single about it that makes it unique. By doing so, your favourite car is immortalised forever in a beautiful original painting.