Automotive Art in Birmingham: Indulge Your Passion for Automobiles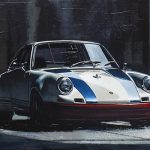 Celebrate your passion for automobiles with amazing automotive art in Birmingham by Rob Hefferan. As a talented, multi-faceted creative artist, Rob's work speaks for itself. He captures the identity, beauty and soul of every one of his subjects, whether human, animal or non-living object. He experiments extensively with theme, colour, mood, light, shadow and style to create truly unique works of art. These timeless pieces are a great legacy that future generations will certainly value both as cherished works of art and valuable investments. More than anyone else, Rob understands that vehicles have their own stories to tell.
For those in Birmingham, automotive art explores a lesser known aspect of art. Many art aficionados would be surprised to learn that the automobile and art share a long history. The design element in creating an automobile reflects the aesthetic aspect of a mechanical product. Artists understand the passion that lies behind the creation of a sleek, beautiful automobile. They use the vehicle to convey their ideas about movement, colour and shape. Through the arts of photography, print, sculpture and painting, automotive art is a well-known way for viewers to see a functional vehicle through a different perspective. It also documents the evolution of the automotive form through history.
Whether you purchase automotive art in Birmingham from Rob Hefferan for yourself or as a gift for a fellow automobile enthusiast, it's something that will be treasured. Apart from the body of the car, many automotive artists explore the innards of the engine. These artworks capture the movement, excitement and feeling that you get when you start the engine. Today, no matter which part of the world you live in, the automobile is an essential part of your landscape. Unfortunately, it's so ubiquitous that we have become desensitised to its presence. Contact Rob Hefferan for more about his automotive art. His work seeks to draw our attention back to these engineering miracles. In Birmingham, automotive art that he creates celebrates the sheer magic of this method of transportation. The automobile reflects the transformation from a strictly utilitarian product into vehicles that reflected the aspirations, lifestyle and economic status of the buyer.